Stade de France guided Tour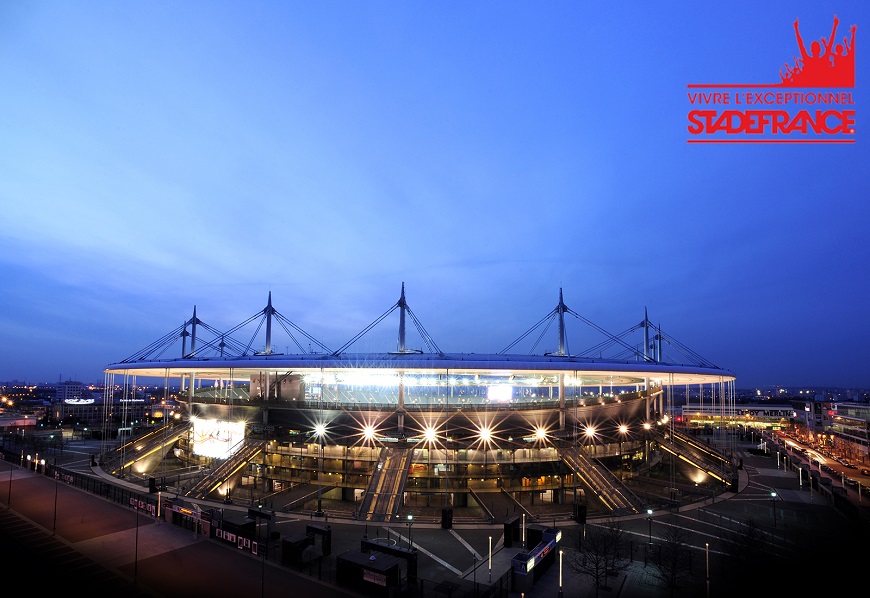 BEHIND THE SCENES AT THE STADE DE FRANCE
Guided Tour
DESCRIPTION :
Enjoy an insider's tour of the Stade de France, the legendary stadium where the French team won the Football World Cup in 1998!
You'll begin your tour by visiting the stands which offer you a breathtaking panorama. You'll enjoy the special atmosphere of the locker room and will walk through the same tunnel used by famous players to access the pitch. Close your eyes and imagine the excitement of the 80,000 spectators cheering on their teams at the biggest games, as if you were there. You'll be told all about the stadium's history, its unique architecture and the stars who've appeared on its manicured pitch.
But there's more to the stadium than just football! The largest sporting and cultural venue in France doesn't just host high-level competitions; shows and other major events are also held here. The Rolling Stones were the first group to perform at the stadium.
The experience continues as you're left to enjoy the Stade de France's museum: archives, models, autographed guitars and jerseys… an array of items which are testament to the stadium's legendary history.
It's a unique visit, which enables you to follow in the footsteps of Zidane and Griezmann, and allows you to find out all there is to know about the mysteries of the Stade de France!

Duration : 90 mn


Tour Language : English.

SELECT YOUR TOUR & DATE :
PRICE DETAILS : STADE DE FRANCE TOUR | 15.00 €

BEHIND THE SCENES AT THE STADE DE FRANCE
Backstage Access
Visit Guided Tour of the famous Stade de France
Learn about the Stadium History
Included :
* Entrance tickets
* Guided tour available in English
* Official Stade de France guide
Not Included :
* Food and drinks
* Hotel pick-up and drop off
* Personal Expenses


Please present your voucher at the Stade de France official shop's welcome desk- access through Gate H
- Because of events held in the stadium, the tour is subject to change according to security requirements in force on the day of your visit. - For security reasons, your bag will be searched before you enter the stadium. Please aim to arrive 30 minutes before the scheduled start of your visit. Baggage and bulky items are not allowed. - Please note: All latecomers risk missing the tour.
Emergency phone number : Phone (Monday - Friday: +33 (0)142467467 Phone (Saturday - Sunday) : +33 (0)173030707 / +33 (0)625422891
Tour operated by our partner Cultival
Departure :
Stade de France, 93200 Saint-Denis, France

Please present your voucher at the Stade de France official shop's welcome desk- access through Gate H
Your reservation is not confirmed until you receive a confirmation from us via email under 48 hours.
1 - From 3 days prior to the event date, you will charged a 100 % cancellation fee ( No show )
2 - 4 days to 7 days prior to the event date, you will be charged 50% cancellation fee
3- More than 7 days prior to the event date, you will be charged 5% cancellation fee
Payment Processing
Advance payment is required to validate your reservation. Payments on this site can only be made by using MASTERCARD or VISA, through our secured Internet pages. Your bank card details will be encrypted (up to 128 bits) with the SSL (Secured Socket Layer) protocol. Your bank card details are never transmitted unencrypted on the Internet.
Payment stays on hold until the services are confirmed:
Occasionally our suppliers and / or service providers make changes to tour dates, prices, inclusions, coverage, age requirements, etc. As a result, PWS reserves the right to deny or accept your payment. Under this agreement, the processing of payments remains on hold until the services are confirmed by our central reservation. After this, you will receive a personalized email for each tour, event or service booked and paid, or a notification that we could not retain your payment. Please wait for our reply. If the tour is available, we will confirm within 1 business day and your credit card will be charged 100% of the cost of the tour, show, or other services (including tax), plus the booking fee indicated, if any. This amount will be debited in Euros. The rates shown include all taxes and VAT.
Any interruption of the tour or service during its delivery, at the client's request, shall not give rise to any refund. Any customer who arrives after the start time of the excursion shall be considered a "no show" and not refunded, whatever the reason for their tardiness. The organizer reserves the right to cancel or modify certain tours without notice if the client's comfort or safety so requires. This could happen in a force majeure case, during a strike or demonstration, an administrative decision or exceptional closure...