ELECTRIC BIKE RENTALS IN PARIS
Holland Bikes
DESCRIPTION :
So many of the tour customers have asked us if they could also rent a bike to explore Paris on their own and now, finally, the answer is : YES, YOU CAN !  You can  rent a bike from our rental point close to the Arc de Triomphe  ! Discover Paris at your own pace, focusing on several districts or just ride along the Seine. The comfortable Dutch city bikes or electric bikes will assure you a pleasant ride. You can even rent electric cargobikes and/or child bikes!
Most of our customers prefer joining a 3 hour guided bike tour through Paris, in their native language, before renting a bike on their own. It helps them get over the fear of riding through Paris and have a first glimpse of the city of lights. Our guides will be happy to advise you on other places to visit on your own or how to go back to a place you really enjoyed during the tour ! Feel free to check out our different tours and see which one suits you best.
We offer a selection of real Dutch bikes. Whether you choose an electric or classic bike, or choose to add a child seat, you will enjoy your ride on comfortable and secure bikes.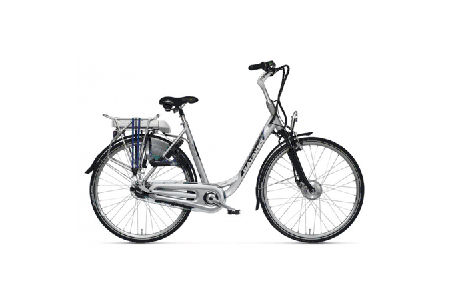 ELECTRIC BIKE
This electric Dutch bike is easy to handle and really comfortable. It will let you explore the town without any effort. Indeed, the electric assistance discreetly installed in the front of the bike will help you travel through kilometers. As our classic bikes, our electric bikes are well equiped : Anti-puncture tyres, braking assured even on wet surfaces, 7 speeds, and integral chain guard and  lock.

Duration : 1 day, 24 hours, 2 days, 3 days, 4 days or 5 days


Tour Language : English.

SELECT YOUR TOUR & DATE :
PRICE DETAILS :

| | | | | | | |
| --- | --- | --- | --- | --- | --- | --- |
|  BIKE RENTAL | 1 day | 24 hours  | 2 days | 3 days | 4 days | 5 days |
| E-Bike |  35 € | 50 € | 70 € | 105 € | 140 € | 175 € |
|  Helmet / Basket | 2 € |  3 € |  4 € | 6 € | 8 € | 10 € |
| | |
| --- | --- |
| Anti Theft Guarantee | 100% coverage |
| E-Bike | 16€ /day |
Paris at your own pace
Pick and Go Service
Comfortable Bikes
HOLLANDB-RENTALS-EBIKE - 1 DAY (E-BIKE)
HOLLANDB-RENTALS-24HOURS - 24 HOURS (E-BIKE)
HOLLANDB-RENTALS-EBIKE-2DAYS - 2 DAYS (E-BIKE)
HOLLANDB-RENTALS-EBIKE-3DAYS - 3 DAYS (E-BIKE)
HOLLANDB-RENTALS-EBIKE-4DAYS - 4 DAYS (E-BIKE)
HOLLANDB-RENTALS-EBIKE-5DAYS - 5 DAYS (E-BIKE)
Included :
Bike rental
A lock
Not Included :
Anti Theft Guarantee
* Our unique Pick and Go service allows you to pick up your bike(s) whenever you are ready. You can enjoy the city by bike and then bring them back when you are finished, without having to worry about closing time.
Once your booking has been confirmed, you will receive your bike number(s) and lock code(s). Find your bike(s) by looking at the numbers on the rear mudguard of the bikes. Now that you have your bike(s), simply unlock them by using the 4 digit code(s) that we have given you.
When you come back from your wonderful ride through the city, simply lock the bikes back to the cable, as they were when you picked them up !
* Because we know that theft is a possibility, we offer a 100% theft insurance. You will be completely covered and won't have to pay anything if the bike is stolen.
Please be aware : Holland Bikes does not force you to subscribe to the theft insurance. They highly recommend it though. Please take into consideration that in case of theft during your rental, Holland Bikes will charge you 100% of the value of the bike.
Tour Operated by our partner Holland Bikes
Holland Bikes
Parking Foch (Niveau -2), 8 Avenue Foch, 75116 Paris, France
Métro (lines 1, 2 & 6): Charles de Gaulle – Etoile
RER A: Charles de Gaulle – Etoile
Exit 8: Parking Foch
When you arrive, please enter the parking and go down to level -2. You will see the "Holland Bike" counter. Your bike will be waiting for you in the parking spaces just in front of our desk.
Your reservation is not confirmed until you receive a confirmation from us via email under 48 hours.
In the event you cancel your booking, cancellation fees will be charged as detailed below:
1) From 3 days prior to the event date, you will be charged a 100 % cancellation fee (No show)
2) 4 to 7 days prior to the event date, you will be charged a 50% cancellation fee
3) More than 7 days prior to the event, you will be charged a 5% cancellation fee
Payment Processing
Advance payment is required to validate your reservation. Payments on this site can only be made by using MASTERCARD or VISA, through our secured Internet pages. Your bank card details will be encrypted (up to 128 bits) with the SSL (Secured Socket Layer) protocol. Your bank card details are never transmitted unencrypted on the Internet.
Payment stays on hold until the services are confirmed:
Occasionally our suppliers and / or service providers make changes to tour dates, prices, inclusions, coverage, age requirements, etc. As a result, PWS reserves the right to deny or accept your payment. Under this agreement, the processing of payments remains on hold until the services are confirmed by our central reservation. After this, you will receive a personalized email for each tour, event or service booked and paid, or a notification that we could not retain your payment. Please wait for our reply. If the tour is available, we will confirm within 1 business day and your credit card will be charged 100% of the cost of the tour, show, or other services (including tax), plus the booking fee indicated, if any. This amount will be debited in Euros. The rates shown include all taxes and VAT.
Any interruption of the tour or service during its delivery, at the client's request, shall not give rise to any refund. Any customer who arrives after the start time of the excursion shall be considered a "no show" and not refunded, whatever the reason for their tardiness. The organizer reserves the right to cancel or modify certain tours without notice if the client's comfort or safety so requires. This could happen in a force majeure case, during a strike or demonstration, an administrative decision or exceptional closure...