TOTAL PARIS | Walking Tour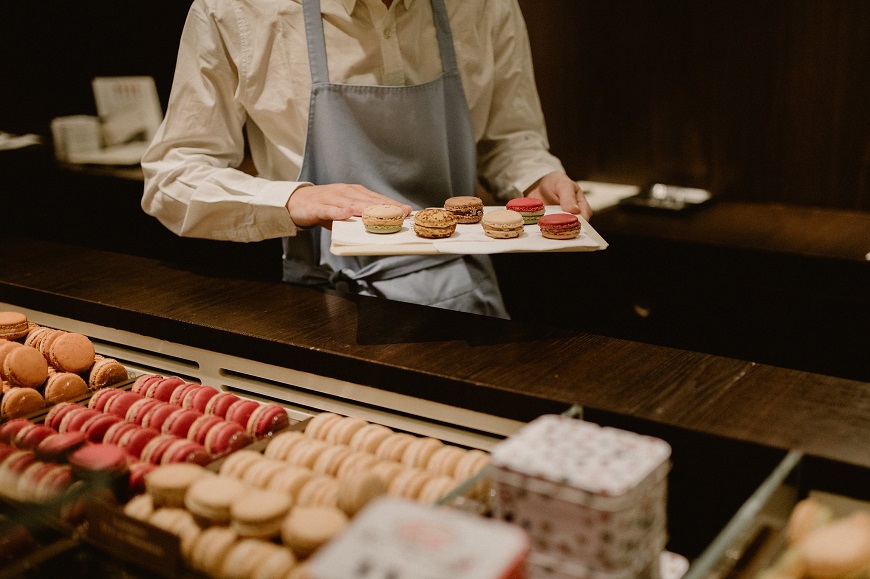 DESCRIPTION :
Join your local guide on place de la Madeleine, for this whole-day tour taking you through some of the most iconic areas of Paris and offering you to indulge some of France's most famous food. Start your tour in the area of Concorde/Saint-Honoré/Place Vendôme, the most luxurious corner of Paris, where luxury jewellery boutiques compete with 5-stars Palace Hotels and the most high-end fashion stores. Stop at an illustrious chocolate store to taste a fantastic mouth-watering macaron, one of Paris' most iconic specialties. From here we'll pass by the celebrated museum of the Louvre before crossing to the Palais Royal, another palace off the beaten-path and unknown by most tourists. Discover it's absolutely lovely garden, completely tucked away that once used to be the centre of prostitution in Paris. After a cross through the "belly of Paris", the city's former central market, and a peek into one of Paris' most beautiful churches, we'll enter a lively market street. Here you'll understand why French food is so celebrated: butchers, fishmongers, fruit & vegetable stores, bakeries, showcasing their fresh and mouth-watering stalls! Here, we'll stop to indulge France's most popular gastronomic pleasures: cheese! Try a slice of the local Brie, pungent Roquefort or France's most classic Comté cheese. Afterwards, we'll get lost in Paris' charming medieval lanes and secret passages, full of quirky shops and unique boutiques. The first leg of the tour will end in front of the Pompidou centre, the museum of Contemporary Arts, one of Paris' most iconic (and most controversial!) buildings. Here you'll have about an hour of free time to rest your leg or have a little bite (but don't eat too much as we'll be indulging a lot of food on the afternoon leg of the tour!). The second part of the tour will start in front of Notre-Dame Cathedral by the statue of Charlemagne. Hear about the history of this Parisian highlight before moving to the Hôtel de Ville, the city's town hall, the square where public executions & torture were once carried out. Hear about the horrible death of Damiens, the infamous man who tried to assassinate the king. Off it goes through the impressive Saint-Gervais church, our entrance gate into the little tangled streets of the Marais, full of corbelled houses, narrow lanes and tucked away aristocratic mansions. After passing by an iconic bakery whose baguette was elected the second best in Paris, we'll try our first pastry, a delicious meringue and creamed based cake! Next, we'll enter the centre of the French gay scene. You'll learn how this part of city, still sordid not that long ago, became today the epitome of trendy Paris and the heart of local-designer's shopping. Here we'll try a macaron from one of France's most famous pastry chefs! Just a street away is the heart of the Jewish community in Paris in a buzzing pedestrian lane full of delicious Eastern European delis and Mediterranean falafel stores. After tasting our third sweet treat, our tour will then take us to a local wine store, where we'll get a professional wine tasting & a sip of some iconic French liqueurs like Armagnac or Plumb alcohol. To pair our drinks, we'll also get some platters of delicious French cheese & charcuterie. Before the end of our tour on Place de la Bastille, where the French Revolution was triggered, we'll have a peek on what is possibly Paris' most beautiful square: la Place des Vosges. The area around is full of cafes and restaurants, leaving you with plenty of options for your evening in the City of Lights!

Duration : 8 hours


Tour Language : English.

SELECT YOUR TOUR & DATE :
PRICE DETAILS : Adult : 149 €

Wander through the luxurious, hidden and bustling streets of Paris with a local as you become a Parisian for a day
Become a cheese connoisseur expert during our cheese tasting at a local fromagerie
Savour a sugary-sweet macaron and three different pastries in popular patisseries
Sample a selection of some of France's best wines & liquors while tasting cheese & charcuterie
Enjoy the elegant surroundings of the Louvre's garden and spot the hidden squares, tucked-away alleyways, and marvellous churches of le Marais
Included :
Local English-speaking guide
Food and wine tasted
Cheese tasting in a local store, 3 different pastries and 2 macarons
Platter of French cheese or charcuterie, wine and liquor tasting
A small-group tour limited to 12 participants
Not Included :
Transportation
Additional food and drink
Souvenirs and items of a personal nature

Dates: All year round, Monday to Saturday, (EXCEPT 14th of July, 25th of December, 1st of January)
Starting time: 9.00 AM
Tour operated by our partner : Urban Adventures
Meeting point : In front the entrance gates of the Madeleine Church – Place de la Madeleine, 75008 Paris. Google maps.
Starting time: 9.00 AM
Ending point: Place des Vosges/Bastille
Your reservation is not confirmed until you receive a confirmation from us via email under 24-48 hours.
1 - 3 days prior to the event date, you will charged a 100 % cancellation fee ( No show )
2 - 4 days to 7 days prior to the event date, you will be charged 50% cancellation fee
3- More than 7 days prior to the event date, you will be charged 0% cancellation fee
Payment Processing
Advance payment is required to validate your reservation. Payments on this site can only be made by using MASTERCARD or VISA, through our secured Internet pages. Your bank card details will be encrypted (up to 128 bits) with the SSL (Secured Socket Layer) protocol. Your bank card details are never transmitted unencrypted on the Internet.
Payment on hold until the services are confirmed:
Occasionally our suppliers and / or service providers make changes to tour dates, prices, inclusions, coverage, age requirements, etc.. As a result, PWS reserves the right to deny or accept your payment. Under this agreement, the processing of payments remains on hold until the services are actually confirmed by our central reservation. After this you will receive a personalized email for each tour, event or service booked and paid or a notification that we could not retain your payment for any reason. Please wait for our reply. If the tour is available, we will confirm you within 1 business day and your credit card will be charged for 100% of the cost of the tour, the shows, or other services (including tax) plus the booking fee indicated, if any. This amount will be debited in Euros. The rates shown include all taxes and VAT.
Any interruption of the tour or service during its delivery, at the client's wishes, shall not give rise to any refund. Any customer who arrives after the start time of the excursion shall be considered a "no show" and not refunded, whatever the reason for the lateness. The organizer reserves the right to cancel or modify certain tours without notice if the passengers' comfort or safety so requires in case of force majeure, strike, demonstration, administrative decision or exceptional closure...